Depending on the budget of the patient and of course based on the patient's bone structure, we use a variety of implants.
Here is an example from daily life to explain the difference in implants:
For example, you may purchase the X brand leather bag for let's say £1000 but if you want to purchase a first-class high fashion brand bag like Hermes you need to spend like £8000.
The fact is that both bags are made with original leather both are made in a controlled environment. There might be no differences in the qualities of each bag apart from the name of the brand and logo.
It is the same case when it comes to implants, you can be sure that your doctor will recommend the most suitable implant for your mouth and bone structure.
A brief on the development of dental implant
The iridium platinum dental implant was first designed by Greenfield in the USA in 1908. The Chromium-cobalt implant was introduced by Strock in 1939. The cage or screw-shaped implants were first developed by Lubin and Rappaport in 1949.
After it was proved that titanium can be fused to the bone the first dental implant was done in 1965.
When you research implant treatment, you may encounter many implant brand options both domestic and foreign. The questions that you need to ask next are the following;
Which brand is the best for an implant?
Which implant brand should I choose?
Which brand has the best quality?
Although there are many different brands of implants, they are all very similar and in general, all are used for treatment purposes. Almost all implants are screw-shaped and made from titanium. Moreover, the quality of all the materials used in effective implant treatment and the experience of the dentist performing the procedure are also very important.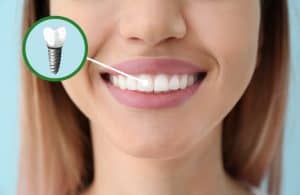 What are the requirements for successful implant treatment?
• They must be made of titanium due to their biological compatibility and durability.
• In order for the implant to perform the chewing function correctly, the force distribution must also be balanced.
• The degree of the attachment of the implant to the jawbone is directly effective for a successful implant.
• The rough surface of the implant is designed to increase contact with the bone.
• Implant brands to be preferred must have FDA and CE certificates and must be approved by the Health ministry.
What does the dentist consider while choosing an implant brand?
We highly recommend you to leave the choice of the implant brand up to your dentist. Choosing the implant brands; Evaluated on the basis of factors such as:
• Your age
• Your bone level
• Your bone quality
• …
What are the most known implant brands?
• Nobel Biocare
• Straumann
• Osstem
• Hissen
• Astra Tech
• Ankylos
• Tekka
• Camlog